2018 | OriginalPaper | Buchkapitel
11. Geocaching on the Moon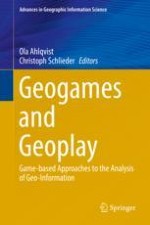 Erstes Kapitel lesen
Autor: Cheng Zhang
Abstract
The Moon is the only natural satellite of the Earth—the closest celestial object to our home planet. Appearing in folktales of almost all cultures, the Moon has fascinated people for thousands of years. Even though humanity has accomplished great achievement of lunar exploration, only 12 people have thus far landed on the Moon; It remains inaccessible for the rest of us. To rectify this,
The Moon Exploration
is a geocaching, multiplayer, mixed reality game that brings the Moon down to the Earth so that people can have access to it. Using the most up to date scientific data, players can explore in the game as if they were the astronauts exploring on the Moon. The location-based mapping scheme maps a lunar location to places on the Earth, so people can explore the Moon in the virtual world while moving around on the Earth. The game-playing facilitates communication and social interactions among players, which could facilitate the formation of a large lunar geocaching community on the Earth.