2016 | OriginalPaper | Buchkapitel
8. Heat Transfer Correlations for Practical Applications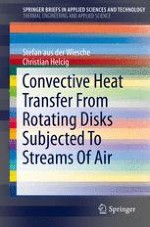 Erstes Kapitel lesen
Autoren: Stefan aus der Wiesche, Christian Helcig
Abstract
The previous chapters clearly demonstrated that, in the case of rotating disks subjected to forced streams, complex flow and convective heat transfer phenomena exist. It is possible to a large extent to formulate separately adequate heat transfer correlations for the different flow and heat transfer regimes, but these correlations are limited to the considered phenomena. For instance, in the case of a stationary disk, the mean convective heat transfer can well be described by a phenomenological Landau-de Gennes model (see Chap.
5
), but the presence of rotation might introduce completely new phenomena, as discussed in Chap.
6
. With a look to engineering applications, it is desirable to obtain suitable heat transfer correlations that are accurate enough for practical purposes but still easy to handle for a wide class of users. This chapter discusses issues connected to that purpose.