27.05.2020 | Ausgabe 8/2020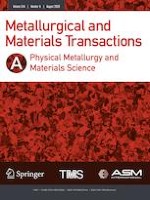 High Electrical and Thermal Conductivity Cast Al-Fe-Mg-Si Alloys with Ni Additions
Zeitschrift:
Autoren:

S. Kotiadis, A. Zimmer, A. Elsayed, E. Vandersluis, C. Ravindran
Wichtige Hinweise
Manuscript submitted October 25, 2019.
Publisher's Note
Springer Nature remains neutral with regard to jurisdictional claims in published maps and institutional affiliations.
Abstract
Aluminum alloys with transition metals Fe and Ni show potential to form the basis for castable alloys with high electrical and thermal conductivity for heat dissipation applications. These elements have low solubility in Al, form hard intermetallic phases, and result in alloys with short freezing ranges, all of which are beneficial for castability and conductivity. Permanent mold castings of pure Al were prepared with additions of Fe and Ni. The electrical conductivity of the Al-Fe and Al-Ni alloys was measured using the eddy current technique, and thermal conductivity was calculated using the Wiedemann–Franz Law. In addition, the conductivity, microhardness, fluidity, and microstructure of Al-Fe-Mg-Si and Al-Fe-Ni-Mg-Si alloys with 0.25 and 0.4 wt pct Ni were also investigated. The Al-Fe-Mg-Si alloy castings had an electrical conductivity of 48.83 ± 0.31 pct IACS and hardness readings of 39.8 ± 3.9 and 53.7 ± 4.6 HV for center and side locations, respectively. The Al-Fe-Mg-Si alloy microstructure consisted of branched
α
-AlFeSi and Al
6
Fe phases with Mg in solute. Adding 0.25 and 0.4 wt pct Ni to this alloy increased its electrical conductivity to 49.80 ± 0.41 and 50.65 ± 0.09 pct IACS, respectively. With the addition of Ni, the branched
α
-AlFeSi transformed into more rounded Al
9
FeNi and Al
3
Ni intermetallic phases along with the formation of Mg
2
Si. The formation of Mg
2
Si with Ni addition resulted in Mg being removed from solid solution, leading to higher electrical conductivity. The Al-Fe-Ni-Mg-Si alloys also showed comparable fluidity to that of a modified A380 Al alloy because of its lower solute content, short freezing range, lower intermetallic content and lower tendency to form dendrites. The Al-Fe-Ni-Mg-Si alloys show potential as castable Al alloys with high thermal and electrical conductivity.