26.03.2018 | Ausgabe 6/2018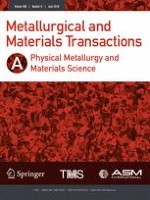 Hot Corrosion Behavior of Ti-48Al and Ti-48Al-2Cr Intermetallic Alloys Produced by Electric Current Activated Sintering
Zeitschrift:
Autoren:

Y. Garip, O. Ozdemir
Wichtige Hinweise
Manuscript submitted November 23, 2017.
Abstract
In this study, Ti-48Al and Ti-48Al-2Cr (at. pct) intermetallic alloys were produced by electric current activated sintering (ECAS). In order to characterize the phase formation and microstructures of these alloys, scanning electron microscopy (SEM), energy-dispersive spectroscopy (EDS), and X-ray diffraction (XRD) analysis were used. The XRD result shows that the intermetallic alloys are composed of
γ
-TiAl and
α
2
-Ti
3
Al phases. The microstructure is dense with a low amount of porosity. The hot corrosion behavior of intermetallic alloys was carried out in a salt mixture of 25 wt pct K
2
SO
4
and 75 wt pct Na
2
SO
4
at 700 °C for 180 hours. The morphology of corroded surfaces was observed by SEM-EDS and XRD. Corrosion phases were identified as TiO
2
and Al
2
O
3.
Well-adhering oxide scale was detected on the corroded sample surface at the end of 180 hours, and no spallation was observed. In addition, a parabolic curve was obtained at the weight change rate
vs
time.