2014 | OriginalPaper | Buchkapitel
How to Improve PLM Approach Efficiency Based on Knowledge Engineering, Knowledge Management and Semantic Web Technologies Domains?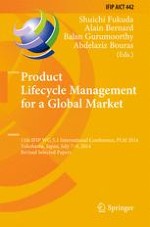 Erstes Kapitel lesen
Autoren: Bernard Chabot, Philippe Gautreau, Brice Sommacal
Verlag: Springer Berlin Heidelberg
The objective of this article is to show that SEAMLESS, a designed and developed method from PCO Innovation, allows improving PLM approach efficiency by proposing to set up a business/Information System referential. PLM, as a PLM solution, is a software which basically supports product conception and product industrialization business processes (and potentially other upstream and/or downstream business processes). The functional scope may be really wide and the various amounts of subjects are strongly connected to each other. A PLM approach (which seeks to establish a PLM solution in the organization) is basically composed of a program with several projects. Among all PLM approach activities; upstream activities (and specifically specification activities) are absolutely crucial. This kind of approach is, generally, lengthy and complex. Specification activities raise many challenges. They come from a functional positioning (whereas a business one is expected) of user's requirements and also from the deliverables documentary nature. Looking at what is a business/Information System referential; we observe that it has all the ingredients to avoid misunderstanding of user's needs and the nature of the document. SEAMLESS is an assisted method to modelize, capture and restitute (graphically and/or textually) the underlying knowledge domain delimitating a set of activities. SEAMLESS allows implementing any knowledge referential by using a generic approach as well as modular and reusable components. By applying SEAMLESS approach on PLM specification activities, we improve PLM approach efficiency.