2011 | OriginalPaper | Buchkapitel
13. How to Reduce the Rebound Effect?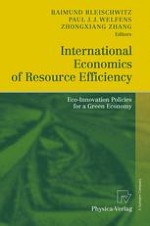 Erstes Kapitel lesen
Autor: Wolfgang Irrek
Verlag: Physica-Verlag HD
Abstract
There are different definitions of the rebound effect that depend on the definition of resource efficiency or energy efficiency and on the boundaries drawn (cf., e.g., Hertwich 2005; Schettkat 2009). For the purpose of this paper, the following definition is applied: If the use of an environmentally, socially or economically more efficient good (e.g., an infrastructure that enables an increase in resource efficiency or allows people to save time, or a product or service that is resource-efficient and saves costs of consumers) induces effects that partly or even fully compensate the ecological, social or economic efficiency gains achieved by this good, this can be called a rebound effect. So there is a link between using the good and the side effects observed. In other words, general economic innovation and growth effects should not be called rebound effects following this definition.