2017 | OriginalPaper | Buchkapitel
30. III-V Ternary and Quaternary Compounds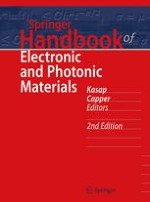 Erstes Kapitel lesen
Autor: Sadao Adachi
Verlag: Springer International Publishing
Abstract
III–V ternary and quaternary alloy systems are potentially of great importance for many high-speed electronic and optoelectronic devices, because they provide a natural means of tuning the magnitude of forbidden gaps so as to optimize and widen the applications of such semiconductor devices. Literature on the fundamental properties of these material systems is growing rapidly. Even though the basic semiconductor alloy concepts are understood at this time, some practical and device parameters in these material systems have been hampered by a lack of definite knowledge of many material parameters and properties.
This chapter attempts to summarize, in graphical and tabular forms, most of the important theoretical and experimental data on the III–V ternary and quaternary alloy parameters and properties. They can be classified into six groups:
2.
Mechanical, elastic, and lattice vibronic properties
6.
Carrier transport properties.
The III–V ternary and quaternary alloys considered here are those of Group III (Al, Ga, In) and V (N, P, As, Sb) atoms. The model used in some cases is based on an interpolation scheme and, therefore, requires that data on the material parameters for the related binaries (AlN, AlP, GaN, GaP, etc.) are known. These data have been taken mainly from the Landolt-Börnstein collection, Vol. III/41, and from the
Handbook on Physical Properties of Semiconductors
Volume 2: III–V Compound Semiconductors
, published by Springer in 2004. The material parameters and properties derived here are used with wide success to obtain the general properties of these alloy semiconductors.