2018 | OriginalPaper | Buchkapitel
Implementation Studies of Multi-rate Systems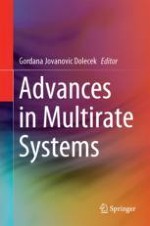 Autoren: Yanxiang Huang, Chunshu Li
Abstract
In this chapter, implementation aspects of multi-rate systems are discussed. Two case studies, of which one is the a up-sampling filter for transmitter and the other is a down-sampling filter for receiver, are investigated.
The focus of the up-sampling filter is on the system-level arrangement. Design challenges on the system are analyzed and tackled. The systematic optimizations are first explored to minimize the design requirements on the DSP front end. From the implementation point of view, multiplier-less pulse-shaping filters with carry-save number applied to the entire signal-processing chain, as well as multiplier-less rotation and vectoring CORDICs (COordinate Rotation DIgital Computers) for rectangular-to-polar coordination conversions, is illustrated.
The down-sampling filter case focuses on the architecture selection of the multi-rate system. To be specific, fixed multiply additions and multiply–accumulator are discussed and compared. The carry-save number format is also exploited. The results show that a successful design trade-off requires careful combination of all the architectures, since each architecture has its advantages and drawbacks.