02.02.2019 | Regular Paper | Ausgabe 6/2019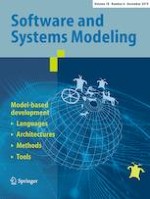 Improving manual reviews in function-centered engineering of embedded systems using a dedicated review model
Zeitschrift:
Autoren:

Marian Daun, Thorsten Weyer, Klaus Pohl
Wichtige Hinweise
Communicated by Dr Sebastien Gerard.
Abstract
In model-based engineering of embedded systems, manual validation activities such as reviews and inspections are needed to ensure that the system under development satisfies the stakeholder intentions. During the engineering process, changes in the stakeholder intentions typically trigger revisions of already developed and documented engineering artifacts including requirements and design specifications. In practice, changes in stakeholder intentions are often not immediately perceived and not properly documented. Moreover, they are quite often not consistently incorporated into all relevant engineering artifacts. In industry, typically manual reviews are executed to ensure that the relevant stakeholder intentions are adequately considered in the engineering artifacts. In this article, we introduce a dedicated review model to aid the reviewer in conducting manual reviews of behavioral requirements and functional design specification—two core artifacts in function-centered engineering of embedded software. To investigate whether the proposed solution is beneficial we conducted controlled experiments showing that the use of the dedicated review model can significantly increase the effectiveness and efficiency of manual reviews. Additionally, the use of the dedicated review model leads to significantly more confident decisions of the reviewers and is perceived by the reviewers as significantly more supportive compared with reviews without the dedicated review model.