2017 | OriginalPaper | Buchkapitel
Incoercible Fully-Remote Electronic Voting Protocol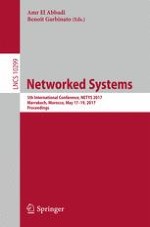 Erstes Kapitel lesen
Autoren: Wafa Neji, Kaouther Blibech, Narjes Ben Rajeb
Abstract
Civitas is the first fully remote e-voting protocol which ensures verifiability and coercion resistance at the same time. In 2011, Shirazi et al. found a security flaw on the credential management process during Civitas' registration phase and proposed solutions to avoid this drawback.
In this paper, we describe some attacks found during the Civitas' registration phase. We show that Shirazi's solutions cannot be used in practical situations and/or doesn't ensure coercion-resistance. Then, we present a fully remote e-voting protocol that addresses these drawbacks.
Our protocol aims to separate voter's registration data from voter's vote into two different bulletin boards. Merging this data will only be done by tallying authorities to identify and tally valid votes. Moreover, our protocol uses a new ballot's encryption function that ensures coercion resistance in a different manner. Compared to Civitas, we use a secure registration phase and we reduce the computational complexity of tallying phase from quadratic to linear time.