2017 | OriginalPaper | Buchkapitel
4. Income Taxation in Brazil: A Comparative Law Approach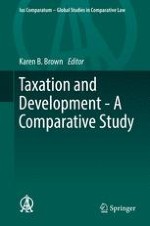 Erstes Kapitel lesen
Autoren: Misabel Abreu Machado Derzi, André Mendes Moreira, Fernando Daniel de Moura Fonseca
Abstract
Brazil taxes the income of its residents on a worldwide basis and allows a foreign tax credit to avoid double taxation. Taxation of controlled foreign corporations in Brazil is complex and depends upon judicial guidance. In general, the ability to defer income derived by Brazilian-owned subsidiaries is very limited. This makes the prospect of investment in any foreign country, including developing, low-income, or emerging countries, difficult because the income will nonetheless be taxed by Brazil. In countries without a low-tax regime, it is possible to defer Brazilian tax on the profits of non-controlled foreign affiliates until they are made available to the owner. There are special consequences for transactions with companies resident in low- or no-tax jurisdictions which may make investment in developing countries unappealing.
Synopsis
A distinguishing characteristic of the Brazilian tax system is that most of the fundamental rights and guarantees regarding taxation are based in the Federal Constitution of 1988 (CF/88). Accordingly, most of the important (but not large in number) international tax issues relating to the proper income tax base are decided by the Federal Supreme Court. Regarding administrative decisions, however, the Administrative Federal Court of Appeals (CARF) is in charge of disputes relating to federal tax planning transactions. Its rulings have been more numerous, varied and wide ranging.
The proliferation of tax minimizing transactions has brought considerable tension in the development of the law. The taxpayer-friendly principle of free enterprise embedded in the CF/88 has been in conflict with the federal government's design to invalidate transactions undertaken solely to reduce taxes and lacking in a legitimate business purpose. This gave rise to a type of general anti-avoidance rule (GAAR) in the Brazilian Tax Code which allows the Brazilian Internal Revenue Service (RFB) to re-characterize for tax purposes a transaction entered into solely for tax purposes.
Brazil taxes resident individuals and legal entities on their worldwide income. In order to avoid double taxation, a credit is available for foreign taxes paid, if there is reciprocity or a double tax convention between Brazil and the other country. Regarding legal entities, in some instances, Brazilian tax may be avoided if payment of the income is outside of Brazil even if production remains within its jurisdictional limits. For example, a foreign parent may in some cases arrange for its Brazilian subsidiary to acquire stock in another Brazilian company (as controlled by a foreign parent) simply by making payment outside of Brazil which is tax-free to the target's foreign owner.
Taxation of the income of foreign controlled corporations is complex. Initially, the rules required that a Brazilian parent report the income of its controlled subsidiary on December 31 of each year regardless of actual receipt of a payment or distribution from the subsidiary. There were questions concerning the constitutionality of these rules, viewed to require taxation of income not yet realized. In addition, they were held to be in violation of Brazil's treaty obligations (prohibiting income derived by a resident of a treaty country which was not earned through a permanent establishment in Brazil), except in a case where the entity did not have economic substance and was used simply to avoid tax through application of the treaty. CARF subsequently determined that these rules involved no treaty violation because the law was intended to tax the income of the Brazilian corporation and not that of the foreign company.
A special rule for foreign affiliates (those not controlled by the Brazilian corporation) defers taxation of their profits until they are shown on the affiliate's balance sheet as made available (as a dividend, credit against a liability, transfer of assets, etc.) to the Brazilian owner. This rule applies only if the affiliate is not resident in a country with a low-tax or "favorable" tax regime.
Dividends paid to individuals or legal entities are, generally, exempt from Brazilian tax on the theory that it avoids double taxation of corporate profits. There is a question, however, whether dividends computed in accordance with new accounting rules will be subject to taxation.
Dividends paid by foreign companies to certain Brazilian resident companies (those using the cost basis versus asset equivalent method) are not exempt from Brazilian tax.
Nonresident individuals and corporations are subject to a withholding tax of 15 or 25 % on certain income derived from Brazilian sources and to a net-basis tax on income derived from a Brazilian permanent establishment. Capital gain, including gain on the sale of an equity stake in a Brazilian company (even if the buyer and seller are located outside Brazil), is subject to tax in Brazil at the rates applied to residents.
There are special consequences for transactions undertaken with a company resident in a jurisdiction with a tax-favored or privileged (no-tax or tax imposed at rate below 20 %, ring fencing, or taxpayer information secrecy) tax system. These include: application of transfer pricing rules, loss of residency, thin capitalization rules, or certain limitations on deductions, among others.