10.05.2018 | Original Article | Ausgabe 3/2018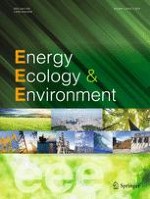 Influence of induced plant volatile and refuge in tritrophic model
Zeitschrift:
Autoren:

Ritwika Mondal, Dipak Kesh, Debasis Mukherjee
Wichtige Hinweise
Electronic supplementary material
Abstract
Plant-induced volatile plays a significant role in plant–herbivore–carnivore interaction. Attraction rate of volatiles influences the immigration rate of carnivores, and hence, predation pressure on herbivores increases. Herbivores take refuge mechanism to protect themselves from carnivore attacks. Based on such biological phenomena, we have formulated a tritrophic model of plant–herbivore–carnivore along with herbivore refuge. In this article, we have considered two types of herbivore refuge (1) constant proportion refuge and (2) constant number of refuge. We have presented only numerical simulation for constant refuge. The model includes Holling type II functional responses for herbivores and carnivores. Positivity and boundedness of solution of the system, existence of interior equilibrium and its local stability have been shown. Global stability of positive equilibrium has been analyzed by applying higher-dimension Bendixson criteria through second additive compound matrix. Coexistence of all populations for long time has been studied. Here two parameters, attraction factor of plants volatile to carnivore and herbivore refuge, have been considered as sensitive parameters. Hopf bifurcation has occurred with respect to both of them. The stability of limit cycles during Hopf bifurcation has been studied by computing Lyapunov coefficient. Numerical simulations have been performed to justify our obtained results.