01.09.2012 | Original Article | Ausgabe 3/2012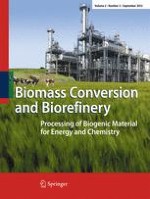 Influence of mean gas residence time in the bubbling fluidised bed on the performance of a 100-kW dual fluidised bed steam gasifier
Zeitschrift:
Autoren:

W. L. Saw, S. S. Pang
Abstract
In this study, the influence of mean gas residence time in the bubbling fluidised bed,
τ
f
, on the performance of a pilot scale 100 kW dual fluidised bed gasifier was experimentally investigated. In the experiments, inert greywacke river sand was used as the bed material, and wood pellets of radiata pine sawdust were used as the feedstock. The gasification temperature and the steam to biomass ratio were set at 730–750°C and 0.8 kg/kg
dry
, respectively. The
τ
f
was varied using three different bed material inventories in the gasification reactor of 5.8, 9.1 and 12.1 kg with the corresponding
τ
f
being calculated to be 0.16, 0.19 and 0.21 s, respectively. The results of this study show that the overall performance of the dual fluidised bed steam gasifier increased with
τ
f
. The key findings are: (1) the total tar concentration in the producer gas was reduced by 24% (except C3 tar) with the
τ
f
increasing from 0.16 to 0.21 s, thus the tar dew point decreased by 16°C, from 188°C to 172°C; (2) the carbon conversion rate and the cold gas efficiency increased by 8% and 3%, respectively, as the
τ
f
was increased in the above range and (3) the water–gas shift reaction appeared to play a more important role with the increase of
τ
f
.