03.04.2019 | Ausgabe 4/2019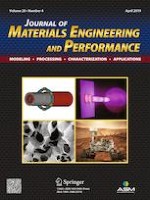 Influence of Multidirectional Forging on Microstructural, Mechanical, and Corrosion Behavior of Mg-Zn Alloy
Zeitschrift:
Autoren:

S. Ramesh, Gajanan Anne, H. Shivananda Nayaka, Sandeep Sahu, M. R. Ramesh
Wichtige Hinweise
Publisher's Note
Springer Nature remains neutral with regard to jurisdictional claims in published maps and institutional affiliations.
Abstract
Multidirectional forging (MDF) was applied to Mg-6%Zn alloy up to 5 passes successfully at 280 °C. MDF-processed materials were characterized using optical microscope, scanning electron microscope, electron backscatter diffraction, transmission electron microscope, and x-ray diffraction. Obtained results showed a significant reduction in grain size (up to 3.8
μ
m) having a large fraction of high-angle grain boundaries after 5 passes of MDF process. Maximum tensile strength of 230 MPa was achieved for 5-pass MDF-processed Mg-6%Zn alloy which is about ~ 2.0 times higher in comparison with that of homogenized alloy (117 MPa) and was attributed to higher dislocations density and grain refinement. Corrosion behavior of the alloy was investigated in 0.1 M NaCl solution using potentiodynamic polarization test, electrochemical impedance spectra analysis, and immersion tests. It was found that the corrosion rate of 5-pass MDF sample improved (0.34 mm/year) ~2.5 times in comparison with that of homogenized Mg-6%Zn alloy (0.86 mm/year) due to fine grain structure, which creates more grain boundaries that act as a corrosion barrier.