2019 | OriginalPaper | Buchkapitel
Insights into the Relationship between Entrepreneurial Orientation and Performance: Evidence from Brazil: An Abstract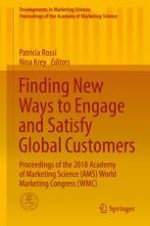 Erstes Kapitel lesen
Autoren: Marcelo Gattermann Perin, Cláudia Simões, Cláudio Hoffmann Sampaio
Abstract
Entrepreneurial orientation (EO) relates to strategy-making processes and styles that support the companies' entrepreneurial decisions and actions. Such orientation conveys the company's level of innovativeness, proactiveness, and proclivity to risk-taking. As a multidimensional construct, there is some consensus in considering EO formed by three dimensions: innovativeness, risk-taking, and proactiveness (Miller 1983; Covin and Slevin 1989). Existing research specifies EO's antecedent or outcome variables such as environmental and organizational influences, the strategic context, the connection of EO to firm resources and capabilities, performance, etc. (e.g., Rauch et al. 2009).
Despite the relevance and extensive interest in the literature, the debate on the notion of EO (e.g., Covin and Lumpkin 2011) has been rekindled by insights and inquiry into its scope, impact in business outcomes, and role in different business contexts. In this study, we address the differential impact of EO's dimensions in business performance. In addition, we consider the contextual role of technological turbulence. We hypothesize that innovativeness, proactiveness, and risk-taking are positively related to business performance, and we also posit that the interaction between EO's dimensions is positively related to business performance. We further argue that the level of technological turbulence affects the role and impact of EO and its dimensions. The study's empirical component was conducted in the context of an emerging economy—Brazil.
The fieldwork involved a preliminary qualitative stage with Brazilian managers and a main cross-sectional design. The cross-sectional study entailed a survey applied to 3000 Brazilian top managers in a wide range of industries with more than 250 employees. The survey produced a sample of 361 cases. Findings confirmed that innovativeness and proactiveness have a positive effect on performance. Yet, the relationship between risk-taking and performance is nonsignificant. Regarding the EO dimensions' interaction, no interaction affected performance positively. However the results revealed that the combination of the different dimensions assumes a distinct effect in different turbulence environments, sometimes having a synergistic effect. Implications and avenues for future research are discussed.
References Available Upon Request