2016 | OriginalPaper | Buchkapitel
International Economic Law and Human Rights: Friends, Enemies or Frenemies?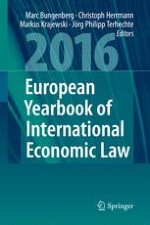 Erstes Kapitel lesen
Autor: Lorand Bartels
Abstract
A state's economic policies, including the protection of intellectual property and foreign investments, and trade liberalisation, can have an impact on the enjoyment of human rights. Some of these policies may also be encouraged by international treaties. But it does not follow that any given economic policy is required by those treaties. Determining whether this is the case requires a close analysis of the treaties at issue. In fact, most treaties typically contain exceptions clauses that permit states to comply with both their economic and their human rights obligations. In sum, while Sarah Joseph is right that, in principle, international economic law could hinder the enjoyment of human rights, it is more difficult to identify cases in which this is mandated. But even if this were the case, the logical solution is not to add human rights obligations to international economic agreements. It would be sufficient to ensure that those agreements contain exceptions that can permit—without mandating—states to comply with, and further, their existing human rights obligations.
Sarah Joseph's article addresses an important question: what is the relationship between international economic law—concerning, principally, trade, intellectual property and investment—and obligations to respect, protect and fulfil human rights. While broadly agreeing with her conclusions, this comment highlights some aspects of this question that merit more detailed consideration.