Erschienen in: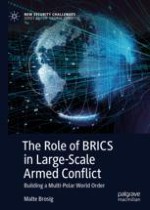 2019 | OriginalPaper | Buchkapitel
1. Introduction: The BRICS Global Order Between Transition and Coexistence
Abstract
This introductory chapter discusses the role of BRICS in the changing global order. BRICS is primarily understood as a foreign policy grouping with an ambitious reform agenda on global order issues with the aim to seek a more equitable recognition considering recent changes in the global power balance. BRICS favor a multi-polar order based on a conservative conceptualization of state sovereign emphasizing non-interference and uncompromised sovereignty. It is argued that how BRICS respond to armed conflict is constitutive for how the global security order is forming especially as institutional reforms in global governance institutions have been minimal until today. The chapter systematically explores summit declarations with regard to peace and security and presents an analysis of individual foreign policy positions and power capabilities of BRICS countries. It is providing the necessary background information for the following conceptual chapter. The two guiding research questions are: How do BRICS countries respond to large-scale armed conflict and how can we explain the choice for a particular response type?