2020 | OriginalPaper | Buchkapitel
1. Introduction to Friction Welding, Friction Stir Welding and Friction Stir Processing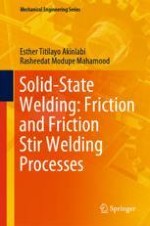 Autoren: Esther Titilayo Akinlabi, Rasheedat Modupe Mahamood
Abstract
Manufacturing of product requires the joining of materials at one point or the other during the product manufacturing process. There are a number of joining processes that are used namely: temporary and permanent joining processes. Welding is a permanent welding process with two basic types: solid-state welding and fusion welding. In fusion welding process, the joining process involves melting of the surfaces to be joined and upon solidification, the two materials become metallurgically bonded together. Solid-state welding on the other hand, affects the joining of materials at a temperature far below the melting point of the materials being joined. Solid-state welding and material processing are advanced welding and material processing technique that is developed in order to offset some of the drawbacks of the fusion welding process. Fiction welding, friction stir welding and friction processing belong to a family of solid-state welding and material processing method with similar modes of operation. Introduction to these friction-based welding and material processing methods are presented in this chapter. Brief background, advantages and limitations of these solid-state material processing techniques are also described. The detailed principle of operations, processing parameters that govern the welding processes, and some of the research work in these fields are described in detail in Chaps.
2
,
3
and
4
in this book. Case studies of friction stir welding of copper and aluminium and friction stir processing of pure aluminium are presented in Chap.
5
and Chap.
6
, respectively. The future research direction and the readiness of friction stir process for the Fourth Industrial Revolution are presented in Chap.
7
.