01.08.2013 | Ausgabe 1/2013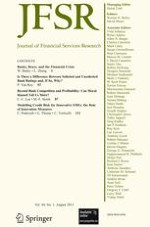 Is There a Difference Between Solicited and Unsolicited Bank Ratings and, If So, Why?
Zeitschrift:
Autor:

Patrick Van Roy
Abstract
This paper analyses the effect of soliciting a rating on the actual outcome of bank ratings. Using two sample banks (one rated by Fitch and one rated by S&P), I find evidence that unsolicited ratings tend to be lower than solicited ones, after accounting for differences in observable bank characteristics. This downward bias does not seem to be explained by the fact that better-quality banks self-select into the solicited group. Rather, unsolicited ratings appear to be lower because they are based on public information and are therefore dependent on the quantity of public information disclosed by the banks. As a result, unsolicited ratings tend to be more conservative than solicited ratings, which incorporate both public and non-public information. While the latter result is also consistent with the fact that credit rating agencies may blackmail low-disclosure firms, the findings suggest that blackmailing—if it is actually used—is ineffective in making these firms start to pay for a rating.