07.11.2019 | Ausgabe 11/2019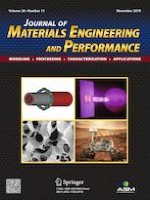 Joining of Cf/SiBCN Composite with a Ni-Cr-Pd(Si,B) Filler Alloy
Zeitschrift:
Autoren:

Wen-Wen Li, Bo Chen, Hua-Ping Xiong, Yao-Yong Cheng, Wen-Jiang Zou
Wichtige Hinweise
Publisher's Note
Springer Nature remains neutral with regard to jurisdictional claims in published maps and institutional affiliations.
Abstract
Joining of Cf/SiBCN composite was conducted by a newly designed Ni-Cr-Pd(Si,B) system filler alloy. The dynamic wettability on the Cf/SiBCN composite was measured by the sessile drop method. The joint microstructure and the fracture surface were analyzed by scanning electron microscope and x-ray diffraction spectrometer. The results showed that the Ni-Cr-Pd(Si,B) filler alloy exhibited a low contact angle of 11.6° on the composite after holding at 1170 °C for 30 min. Element Cr played an active role in the interfacial reaction, and a Cr7C3 reaction layer with a thickness of 8 µm was formed at the surface of the Cf/SiBCN composite. Under the brazing condition of 1170 °C for 10 min, the joint strength at the room temperature reached 66.8 MPa. When the test temperature increased to 600 and 800 °C, the joint strength was even elevated to 90.3 and 81.2 MPa, respectively. The joint strength at high temperature was higher than that at room temperature, and this should be attributed to the improvement of the joint plasticity and the release of the residual thermal stresses within the brazed joint.