26.11.2019 | Ausgabe 1/2020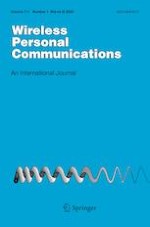 Joint Beamforming and Power Control for Downlink Multi-cell Massive MIMO System
Zeitschrift:
Autoren:

Yunxiao Zu, Lin Shao, Bin Hou
Wichtige Hinweise
Publisher's Note
Springer Nature remains neutral with regard to jurisdictional claims in published maps and institutional affiliations.
Abstract
This paper is concerned with joint beamforming and power control for downlink multi-cell massive multiple-input and multiple-output system. The finite system analysis and large system analysis are successively made for two different system configurations. When base station (BS) antenna number and user number per cell are not large, the finite system analysis of single cell is extended to the multi-cell case after problem reformulation. With the Perron–Frobenius theory and alternative optimization, the dual uplink power and beamformers can be calculated iteratively. Based on the iteration result and the uplink-downlink duality, the final solution is obtained. However, when BS antenna number and user number are large, the large system analysis is employed. In order to reduce computation complexity, the dual uplink power is approximated by its asymptotic equivalent. First, the asymptotic expression of signal to interference plus noise ratio is derived via random matrix theory. Next, the power control problem is reformulated in the asymptotic regime to obtain the asymptotic dual uplink power. As the asymptotic dual uplink power only depends on the second order statistic, it does not require updating along with the channel state information instantaneously. As a result, the computation complexity is drastically reduced.