2016 | OriginalPaper | Buchkapitel
Learning in a World of Convergence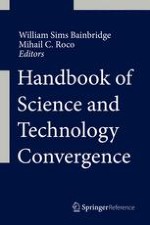 Erstes Kapitel lesen
Autor: Susan Rundell Singer
Abstract
Convergence challenges traditional learning systems at all levels. Structurally there is the need for deep disciplinary learning coupled with the ability to work across fields, that is, the need to speak "convergence creole." Learning about new concepts, mastering new approaches to solving problems, and gaining competency with an ever-changing suite of tools and instruments require the ability to be a lifelong learner. A convergence of research in education, learning science, cognitive science, computer science, education technology, and related fields is creating new approaches to personalize learning and provide just-in-time resources for the lifelong learner. Progress in five key areas is creating new opportunities to align effective education and workforce development:
Developing

"

convergence creole

": Major reframing of precollege and college education in science and engineering has the potential to support the development of learners who can effectively solve convergence problems. The focus on a few core ideas within a discipline to develop expertise is interwoven with understanding crosscutting concepts and science practices.

Learning anytime

,

anywhere

: From massively open online courses to simulations, games, and virtual reality environments, there are emerging models for learning that are no longer tethered to place. These new tools allow for more efficient and effective personalized learning.

Leveraging technology to understand convergence learning

: While the learning sciences are advancing rapidly, much of the work has focused on specific disciplines or more global approaches to how people learn. As online learning environments emerge, the accompanying research agenda for large and complex data sets they generate have the potential to accelerate the understanding of effective teaching and learning across disciplines.

Developing intrapersonal and interpersonal skills

: Working across disciplines places demands attention to fostering growth of intrapersonal and interpersonal skills that are vital for collaborative problem solving. The emerging field of team science is providing insights into how to support individual development and create environments for productive synergies across disciplines.

Defining and measuring successful learning in a convergent world

: Measuring and documenting the success of learners working across disciplinary divides may be enhanced by personalized learning environments, which provide rapid and ongoing feedback on performance. Both assessment and credentialing will require new infrastructure to support lifelong learning and fluid movement among disciplines.
The success of innovation in education for convergence depends on the ongoing convergence of a broad range of fields to design and develop effective learning environments.