01.01.2015 | LCIA OF IMPACTS ON HUMAN HEALTH AND ECOSYSTEMS | Ausgabe 1/2015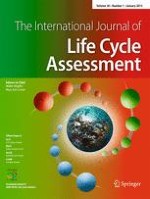 Life cycle health impacts of polycyclic aromatic hydrocarbon for source-specific mixtures
Zeitschrift:
Autoren:

Dingsheng Li, Mark A. J. Huijbregts, Olivier Jolliet
Wichtige Hinweise
Responsible editor: Stig Irving Olsen
Electronic supplementary material
The online version of this article (doi:
10.​1007/​s11367-014-0810-6
) contains supplementary material, which is available to authorized users.
Abstract
Purpose
Polycyclic aromatic hydrocarbons (PAHs) have been identified as a major source of human health impact for many products in life cycle impact assessment (LCIA). However, this result is highly dependent on the LCIA method. Based on the USEtox model, this study aims to improve health impact estimates of 16 PAHs, explore the importance of emission profiles of PAH mixture, and illustrate how these improvements affect an LCIA case study.
Methods
We model the influences of two factors neglected in previous LCIA methods—black carbon adsorption and photolysis degradation—providing refined intake fractions. We use epidemiological data to estimate the carcinogenic effect factor of benzo[a]pyrene, rather than extrapolating it from animal toxicity tests as in previous studies. Toxicity equivalence factors (TEFs) are employed to estimate the 16 PAHs USEtox characterization factors, expressed in cancer cases per kilogram of PAH emitted. These are applied to determine industry-specific characterization factors of PAH mixtures for the aluminum industry, for domestic combustion, and for the overall world PAH emissions.
Results and discussion
Black carbon adsorption extends the persistency of PAHs with four or more rings and increases their intake fractions by up to 350 % even when photolysis is considered. The epidemiologically derived carcinogenic effect factor of benzo[a]pyrene increases 61-fold compared to previous studies, with 1.2 cancer cases per kilogram of benzo[a]pyrene intake. Source-specific emission profiles of PAHs, especially the fraction of benzo[a]pyrene and dibenz[a,h]anthracene in the mixture, have high influences on the health impact of mixtures. A default characterization factor of 5.7 × 10−5 cancer cases per kilogram emitted is derived for the world PAH mixture. The proposed health impact estimates for PAH mixtures substantially affect overall health impacts for 1 kg aluminum produced and fall intermediary between the overestimated CML 2001 and the much lower ReCiPe results.
Conclusions
This study improves characterization factors of PAHs by incorporating considerations of black carbon adsorption, photolysis, and epidemiological data. It is important for future LCIA practices and epidemiological studies to include emissions of individual PAHs, specifically of dibenz[a,h]anthracene in addition to benzo[a]pyrene, when assessing human health impact of PAH mixtures.