2015 | OriginalPaper | Buchkapitel Open Access
16. Macroseismic Intervention Group: The Necessary Field Observation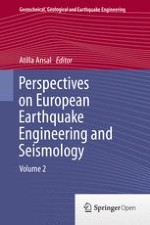 Autor: Christophe Sira
Abstract
French territory is characterized by moderate seismicity, but statistically a strong earthquake strikes mainland France every century. The French Central Seismological Office (BCSF) is in charge of macroseismic enquiries and intensity estimations for each earthquake that effects French territory.
Having used various forms of inquiry since 1921, the BCSF became aware of the limits and biases of macroseismic forms for the collection of the seismic effects, in particular for the estimation of the intensities larger or equal to VI including the damages of buildings. The field observations bring crucial informations for an accurate estimation of the intensities higher or equal to VI.
The last earthquakes in metropolitan France and West Indies islands have motivated the BCSF to create a large professional group dedicated on collecting macroseismic field observations. This group, called the Macroseismic Intervention Group (GIM), includes several earthquake specialists in various specific domains, such as vulnerability, site effects, historical intensity estimates, etc. It contributes to the European macroseismic scale, in its evolution and its future updates. By employing young specialists in this group we allow the continuity of the macroseismic work while improving the use of the acquired field data.