2012 | OriginalPaper | Buchkapitel
11. Markov Random Field and Social Networks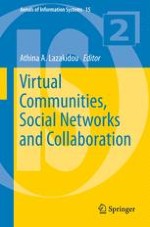 Erstes Kapitel lesen
Autor: Stelios Zimeras
Verlag: Springer New York
Abstract
A Markov random field (MRF) is composed of 2D or 3D Markov chains providing spatial homogeneity in some sense. Markov random fields are reviewed and investigated as models of that kind of models. In a matter of graphs, spatial interactions between nodes defining local conditionals in regions denote Markov networks. These models are the set of sites, with a certain probability structure to the possible labeling of those sites.
Physical properties of the neighbors could be explained by partial differential equation (PDE) inside the potential function introducing PDE-MRF models. In Bayesian analysis, they have been used to describe the local characteristics of the spatial interaction between sites introducing Bayesian networks. A social network is a social structure constructing nodes, which are connected by one or more specific types of interdependency. When the nodes are explained by conditional probability modeling between them, in that case a connection between MRF and social networks could be established, to identify the local connectivity.
In this work, spatial behavior of the MRF models in nonrectangular lattice would be investigated. MRF models called PDE-MRF models are introduced based on the total variation of the region, considering smoothness assumptions. Finally, the Markov assumptions to deal with social network models are generalized and are discussed; some classes of estimations have been introduced using the Gibbs sampler.