2018 | OriginalPaper | Buchkapitel
Message-Locked Encryption with File Update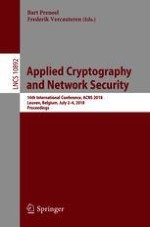 Erstes Kapitel lesen
Autoren: Suyash Kandele, Souradyuti Paul
Abstract
Message-locked encryption (MLE)
(formalized by Bellare et al. [
5
]) is an important cryptographic primitive that supports deduplication in the
cloud
.
Updatable block-level message-locked encryption (UMLE)
(formalized by Zhao and Chow [
13
]) adds the
update
functionality to the
MLE
. In this paper, we formalize and extensively study a new cryptographic primitive
file-updatable message-locked encryption (FMLE)
.
FMLE
can be viewed as a generalization of the
UMLE
, in the sense that unlike the latter, the former does not require the existence of
BL-MLE (block-level message-locked encryption)
.
FMLE
allows more flexibility and efficient methods for updating the ciphertext and tag.
Our second contribution is the design of two efficient
FMLE
constructions, namely,
RevD-1
and
RevD-2
, whose design principles are inspired from the very unique
reverse decryption
functionality of the
FP
hash function (designed by Paul et al. [
11
]) and the
APE
authenticated encryption (designed by Andreeva et al. [
2
]). With respect to
UMLE
– which provides so far the most efficient update function –
RevD-1
and
RevD-2
reduce the total update time by at least 50%, on average. Additionally, our constructions are storage efficient. We also give extensive comparison between our and the existing constructions.