08.05.2019 | Ausgabe 7/2019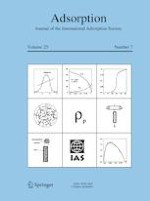 Metal modified silica for catalytic wet air oxidation (CWAO) of glyphosate under atmospheric conditions
Zeitschrift:
Autoren:

Eliana G. Vaschetto, Melina I. Sicardi, Verónica R. Elías, Gabriel O. Ferrero, Paola M. Carraro, Sandra G. Casuscelli, Griselda A. Eimer
Wichtige Hinweise
Publisher's Note
Springer Nature remains neutral with regard to jurisdictional claims in published maps and institutional affiliations.
Abstract
SBA type nano-structured catalysts were prepared modified with iron and cobalt. The materials were characterized by XRD, N2 adsorption; TEM, ICP–OES, UV–Vis DRS and FTIR. These solids were evaluated in the glyphosate degradation reaction through catalytic wet air oxidation at atmospheric pressure and room temperature. The reaction products were analyzed by ionic chromatography and they included: acetate, nitrate, nitrite and phosphate ions. The catalyst stability and possibility of recycling were also study. It was found that the Fe and Co ions can form complexes with glyphosate, although only the Fe-SBA(20) catalyst led to the oxidative fragmentation of the herbicide. The Co-SBA(20) material acts as herbicide adsorbent but was not active to achieve its degradation. It is proposed that, the catalyst modified with iron can form a Fe-glyphosate complex which was observed by infrared spectroscopy. This complex was capable to active O2 from an air flow, generating oxoiron intermediates that promote the degradation of the herbicide (into short chain ions, less toxic and more biodegradable) under room reaction conditions.