16.10.2017 | Ausgabe 11/2017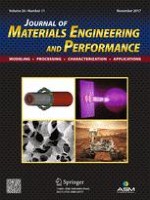 Microstructure and Interfacial Shear Strength in W/(Zr55Cu30Al10Ni5)100−

x

Nb

x

Composites
Zeitschrift:
Autoren:

M. Mahmoodan, R. Gholamipour, Sh. Mirdamadi, S. Nategh
Abstract
In the present study, (Zr
55
Cu
30
Al
10
Ni
5
)
100−

x
Nb
(

x

=0,1,2,3)
bulk metallic glass matrix/tungsten wire composites were fabricated by a gas pressure infiltration process at temperature 950 °C for 5 min. Microstructural studies and mechanical behaviors of the materials have been investigated by scanning electron microscopy, transmission electron microscopy and pullout tests. The mechanical results showed that the interface shear strength in the composite sample with
X
= 2 increased more than twice compared to the composite sample with
X
= 0. Based on the microstructural results, the addition of two atomic percent Nb in the matrix composite causes an increase in the diffusion band thickness during the melt infiltration and change in the interface fracture mode as a result of pullout test.