10.09.2015 | Ausgabe 12/2015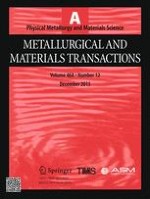 Microstructures and Hardness/Wear Performance of High-Carbon Stellite Alloys Containing Molybdenum
Zeitschrift:
Autoren:

Rong Liu, J. H. Yao, Q. L. Zhang, M. X. Yao, Rachel Collier
Wichtige Hinweise
Manuscript submitted January 11, 2015.
Abstract
Conventional high-carbon Stellite alloys contain a certain amount of tungsten which mainly serves to provide strengthening to the solid solution matrix. These alloys are designed for combating severe wear. High-carbon molybdenum-containing Stellite alloys are newly developed 700 series of Stellite family, with molybdenum replacing tungsten, which are particularly employed in severe wear condition with corrosion also involved. Three high-carbon Stellite alloys, designated as Stellite 706, Stellite 712, and Stellite 720, with different carbon and molybdenum contents, are studied experimentally in this research, focusing on microstructure and phases, hardness, and wear resistance, using SEM/EDX/XRD techniques, a Rockwell hardness tester, and a pin-on-disk tribometer. It is found that both carbon and molybdenum contents influence the microstructures of these alloys significantly. The former determines the volume fraction of carbides in the alloys, and the latter governs the amount of molybdenum-rich carbides precipitated in the alloys. The hardness and wear resistance of these alloys are increased with the carbide volume fraction. However, with the same or similar carbon content, high-carbon CoCrMo Stellite alloys exhibit worse wear resistance than high-carbon CoCrW Stellite alloys.