09.11.2017 | Ausgabe 3/2019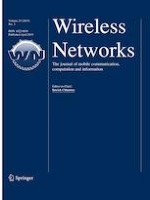 Mobility analysis of CoMP-based ultra-dense networks with stochastic geometry methods
Zeitschrift:
Autoren:

Mengting Liu, Yinglei Teng, Mei Song
Abstract
This paper conducts mobility analysis in Coordinated multipoint (CoMP) based ultra-dense networks (UDNs) where channel state information (CSI) is outdated due to feedback delay. To depict the impact of mobility on CoMP-based UDNs, related analyses are carried out from two perspectives. For one thing, we define CoMP handover probability as the probability that the serving cluster doesn't remain the best candidate during the movement and further give its theoretical expression with stochastic geometry methods. For another, coverage probability is evaluated by considering the effect of outdated CSI caused by mobility. Furthermore, to capture the comprehensive effect of mobility on network performance, we propound the
effective coverage probability (ECP)
incorporating the above two effects. Numerical results illustrate that with the increase of users' velocity, CoMP handover probability increases while coverage probability decreases but can be compensated by relatively larger cluster size schemes or denser access points deployment. Also, our proposed performance metric ECP reveals the tradeoff between CoMP handover probability and coverage probability, which depends on cluster size and network sensitivity to handover failure.