22.07.2016 | Ausgabe 2/2016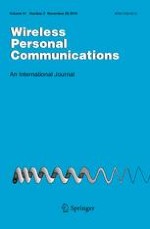 Moment-Based Joint Estimation of Ricean
K

-Factor and SNR Over Linearly-Modulated Wireless SIMO Channels
Zeitschrift:
Autoren:

M. Bassem Ben Salah, Abdelaziz Samet
Abstract
In this paper, we develop a new joint estimator for the Ricean
K
-factor and the signal-to-noise ratio (SNR) when multiple antenna elements receive linearly-modulated signals with a complex additive white Gaussian noise spatially uncorrelated. The fourth-order cross-moments and the second-order moments of the received signal at a single-input multiple-output (SIMO) system are considered. The SNR is deduced by estimating the powers of the useful signals and the noise. While the
K
-factor is computed by estimating the kurtosises of the transmitted data and the Ricean channel. The new joint estimator is non-data-aided and does not require the a priori knowledge of the modulation type or order. The performances of this algorithm are investigated in terms of normalized root mean square error over different modulated transmissions and compared with the data-aided auto-correlation function (DA-ACF) based joint estimator extended to a SIMO configuration. Simulation results show that our approach outperforms the DA-ACF estimator.