2018 | OriginalPaper | Buchkapitel
Outlier Correction in ECG-Based Human Identification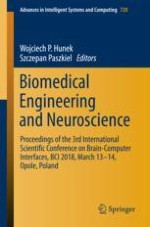 Erstes Kapitel lesen
Autoren: Volodymyr Khoma, Mariusz Pelc, Yuriy Khoma, Dmytro Sabodashko
Abstract
In this article we have proposed a novel method for ECG signal processing in biometric applications. The main idea is to correct anomalies in various segments of ECG waveform rather than skipping a corrupted ECG heartbeat, as it is commonly done in most cases. The proposed approach is taking into consideration that biosignals are of quasi-periodic nature.
Neighbouring ECG heartbeats are analysed using a sliding window. Within such a window the analysis of samples distributions is being performed. This information allows to detect outlying samples and correct them with expected values. Such an approach allows to collect better statistical representation which improves identification models performance.
In order to validate our method we used open-source Physionet ECG-ID database. This database contains 310 records per 90 unique persons. The classification result reported on this data set using commonly known outlier detection approach was 91%. We carried out a number of experiments and then compared the obtained results to those obtained using the outlier correction method described above. Classification results for our method exceeded 95%. Thus, misclassification error rate has been improved twice.