2019 | OriginalPaper | Buchkapitel
10. Pedogenic Processes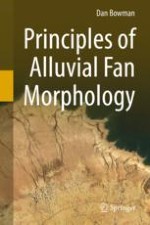 Erstes Kapitel lesen
Autor: Dan Bowman
Verlag: Springer Netherlands
Abstract
Soils in the fan's stratigraphic column testify to a period of surface exposure and stability during the depositional phase. This happens when deep entrenchment leaves parts of the fan surface inactive for longer periods. The paleosol thus marks a depositional hiatus, i.e., an inactive period within the depositional phase. In extremely arid to semiarid climates, the typical product is the
reg soil
marked by a vesicular, fine-grained Av horizon and a B horizon enriched in carbonate, gypsum, or salts.
Gravel shattering
by salts is found both on the fan surface and in the B and C horizons.
The abandoned fan surfaces become a desert pavement composed of closely packed, angular rock fragments, making a mosaic mantle that protects the underlying soil from removal. Desert pavements persist as long as the stone coverage remains above 60% and provide a relative-age estimator that progresses concurrently with the soil formation. With time, the gravel on the fan surface becomes coated with
desert varnish
which consists of layers of hydrous ferric manganese oxide, iron oxides, clay minerals, and trace elements. The Fe oxide typically amounts to less than 1%. Its percentage of cover and the darkness of its varnish increase systematically with age. Carbonate encrustation is another characteristic feature of semiarid fan surfaces. The higher and older the fan surfaces are, the better preserved the carbonate encrustations become.