2019 | OriginalPaper | Buchkapitel
11. The Tectonic Control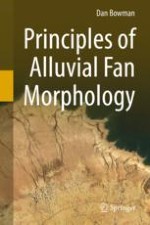 Erstes Kapitel lesen
Autor: Dan Bowman
Verlag: Springer Netherlands
Abstract
Regional tectonics determines the location of alluvial fans by creating sharp topographic differences. Tectonic uplifts enhance bedrock erosion by supporting the capacity to detach and transport clasts. To ensure a continuous fan growth, a long-time trend of uplift or sinking is required.
Being deposited atop a tectonically mobile zone, the alluvial fans too undergo themselves tectonic deformation. Strike-slip faults transfer their motion to the overlying fans, causing the fan segments to be shifted laterally. The amount of such horizontal slips can be determined by the offset of geomorphic markers. Any morphologic surface direction that is at variance with the radial channel pattern and significantly disturbs fan concentricity might be due to tectonic deformation.
Mountain-front sinuosity estimates the irregularity of mountain fronts and provides an evaluation of the balance between stream erosion and weathering relative to tectonic uplift. The mountain-front faulting controls the form and the volume of the accommodation space. When the rate of delivery from the hinterland exceeds the rate of creation of space to store the sediments, fan gravel progradation is enhanced. Coarsening upward points to gravel progradation usually related to tectonic uplift events.