01.06.2015 | Ausgabe 3/2015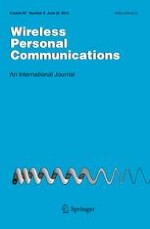 Performance Evaluation of Virtual MIMO Multi-User System in a Measured Indoor Environment at 5 GHz
Zeitschrift:
Autoren:

Balla Moussa Coulibaly, Xiongwen Zhao, Suiyan Geng, Yiwei Li, Jingchun Li
Abstract
Wideband indoor MIMO channel measurements were performed in office building with carrier frequency at 5.25 GHz with 100 MHz radio frequency bandwidth. In this paper nineteen measured indoor propagation data sets are used to study the behavior of virtual MIMO system formed by two users compared to its classical user. A classical user having 4 antenna elements, two spaced antennas from two classical users are brought together to form 4
\(\times \)
8 virtual MIMO with base station having 8 antennas. Nineteen measured datasets are available from which 171 possible virtual MIMO pairs are formed. The capacity,
\(K\)
-factor, rms delay spread and spatial correlation are evaluated for 171 possible pairs of users whose channels were measured while standing. The results show that virtual MIMO in many cases is desirable for capacity improvement. The capacity improvement of virtual MIMO system is found to be 60.2 % over both two constituent users and 31 % over only one constituent user. The result show also that capacity improvement is mostly due to the rms delay spread and special correlation reduction than the
\(K\)
-factor reduction.