2018 | OriginalPaper | Buchkapitel
5. Perspicuity, Divergence, and Internal Operations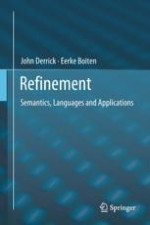 Erstes Kapitel lesen
Autoren: John Derrick, Eerke Boiten
Abstract
In going from the relational semantics of CSMATs in Chap.
3
to the abstract data types of Chap.
4
we made a number of radical changes. We labelled individual transitions with the name of an operation, much as we had been doing in LTS and automata in Chaps.
1
and
2
, and removed transitivity from the transition relation as we were now able to observe individual steps. We also created a separation between local (abstract) state and global (concrete) state that extended the idea of state abstraction in Chap.
3
. One aspect of CSMATs that has not been fully reflected in the relational data types yet is reflexivity of the transition relation, or "stuttering": an unchanged state
could
be the outcome of a labelled transition, but not every occurrence of "nothing has changed" is worth recording explicitly as a transition. This chapter will look more closely at this – leading to the concept of "perspicuous" operations in refinement. CSMATs allowed us to remain agnostic about having potentially infinite traces in the model; uncovering perspicuous operations forces us to worry about invisible things happening infinitely often ("livelock"). Thus,
divergence
needs to be addressed now.