01.08.2014 | Ausgabe 3/2014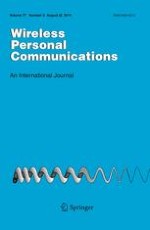 PhyCon: Discovering Physical Connectivity for Indoor WLAN Using Mobility
Zeitschrift:
Autoren:

Marco A. Gonzalez, Javier Gomez, Francisco Garcia, Victor Rangel
Wichtige Hinweise
This work was supported in part by research funds from CONACyT grants 105117 and 105279 and by DGAPA - PAPIIT grants IN114813 and 114713.
Abstract
The concept of connectivity in wireless networks is a well-established term referring to the ability of nodes to communicate with other nodes directly or through other nodes working as relays. In this paper, a different aspect of connectivity is presented named physical connectivity, which we defined as the ability of nodes to physically reach other nodes, not only through open spaces, but also through corridors, doors, rooms, etc. For indoor wireless local area networks (WLANs), we believe that awareness of physical connectivity is a key factor for developing emerging applications such as guiding, localization, tracking, physical routing, etc. Related studies only consider the problem of direct connectivity or line-of-sight (LOS), however, we consider physical connectivity should span beyond LOS conditions enabling nodes to reach other nodes through any path available. In this paper a novel method to discover physical connectivity named PhyCon is presented. PhyCon combines node mobility and the inverse-square relationship between received signal strength and distance to discover physical connectivity paths among wireless users. Results from simulations and testbed experiments show PhyCon can discover a high percentage of physical connectivity paths using normal mobility behavior of users found in indoor WLAN.