01.04.2013 | Research Paper | Ausgabe 4/2013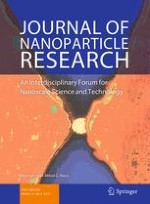 Polymeric nanowires and nanopillars fabricated by template wetting
Zeitschrift:
Autoren:

M. Kokonou, G. Ioannou, C. Rebholz, C. C. Doumanidis
Abstract
Template wetting constitutes a common technique for the fabrication of elongated polymeric nanostructures such as nanorods, nanotubes, and nanowires. It is based on the infiltration of polymeric solutions inside the nanopores of a template, followed by the chemical dissolution of the template. It is affected by several parameters such as dimension and surface properties of the nanopores; molecular weight, concentration, and viscosity of the polymer; duration of infiltration and drying; etc. This study focuses particularly on the effects of the technique of infiltration for two cases, for free-standing nanorods and for nanopillars attached on a substrate. Poly-
l
-lactid acid, poly(methyl methacrylate), and poly(3-hexylthiophene) were chosen as model polymers due to their wide range of applications in different fields. Three different ways were tested to fabricate nanopillars by infiltration of the polymer solutions inside anodic porous alumina templates with open-through pores: One way was to position the template above a thin film of the polymer solution, the second way was to spread the polymer solution on the top surface of the template, and the third way was to dip the template inside the polymer solution. Nanopillars and nanowires with diameters in the range from 110 to 190 nm and height from 880 nm to 15 μm depending on the experimental conditions were fabricated. Preliminary measurements of the drug-release behavior of drug-loaded matrix dissolution nanopillars fabricated with the proposed techniques are presented.