07.11.2019 | Ausgabe 23/2019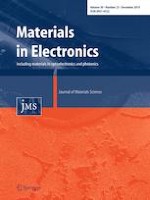 Preparation and investigation of structure, magnetic, and dielectric properties of (1 − 
x

)Bi2Fe4O9–

x

MgFe2O4 bicomponent ceramics
Autoren:

L. G. Wang, G. B. Yu, C. M. Zhu, F. Z. Lv, F. C. Liu, W. J. Kong
Wichtige Hinweise
L. G. Wang and G. B. Yu have contributed equally to this work.
Publisher's Note
Springer Nature remains neutral with regard to jurisdictional claims in published maps and institutional affiliations.
Abstract
Crystal structure, morphology, magnetic, and dielectric properties of (1 − 
x
)Bi
2
Fe
4
O
9
–
x
MgFe
2
O
4
bicomponent ceramics are investigated in detail. The material has been synthesized via sol–gel method. Analysis of X-ray diffraction data of the bicomponent ceramics shows the coexistence of orthorhombic Bi
2
Fe
4
O
9
and spinel MgFe
2
O
4
phases with no third phase. Microstructural and surface morphology displays the homogeneous grain distribution with different grain sizes of Bi
2
Fe
4
O
9
and MgFe
2
O
4
. The magnetic measurement shows decreasing coercivity and increasing values of remnant and saturation magnetization with the increase in MgFe
2
O
4
. Temperature-dependent dielectric properties and electrical modulus are conducted in the temperature range of 27–527 °C with the frequency ranging from 1 to 30 kHz. Two abnormal peaks are, respectively, observed at low and high temperature ranges. The variation of electric properties is closely related to the composition of MgFe
2
O
4
. The results of dielectric and electrical modulus indicate the appearance of dielectric relaxation in (1 − 
x
)Bi
2
Fe
4
O
9
–
x
MgFe
2
O
4
. Combined with the study of activation energy, the dielectric relaxation is mainly induced by different electric responses of various charge carriers intrinsically dominating in a thermally activated process with the incorporation of MgFe
2
O
4
. The combination of Bi
2
Fe
4
O
9
and MgFe
2
O
4
enhances the coexistence of magnetic and electric properties in the present composites. It is quite promising from application point of view.