29.12.2016 | Ausgabe 2/2017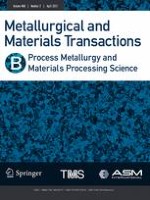 Preparation of Rutile from Ilmenite Concentrate Through Pressure Leaching with Hydrochloric Acid
Zeitschrift:
Autoren:

Junyi Xiang, Songli Liu, Xuewei Lv, Chenguang Bai
Wichtige Hinweise
Manuscript submitted July 31, 2016.
Abstract
Take into account the fact that the natural rutile utilized for the production of titanium dioxide pigment through chloride process is desperately lacking worldwide especially in China, an attempt was exploited for extracting synthetic rutile from Yunnan ilmenite concentrate with hydrochloric acid pressure leaching process. The leaching parameters for one step leaching process were investigated. The results shown that the optimum condition is leaching temperature of 413 K (140 °C), acid concentration of 20 pct HCl, leaching time of 4 hours and liquid/solid mass ratio of 8:1. A two steps leaching process was also suggested to reutilize the leaching liquor which with a high content of HCl. The results showed that the content of HCl decreased from 135 to 75 g/L, total iron increased from 44.5 g/L to about 87.6 g/L, and the liquid/solid mass ratio decreased to 5:1 with a two steps leaching process. The leaching product produced through a two steps leaching process shows a pure golden red with a high content of titanium (92.65 pct TiO2), a relatively low content of calcium (0.10 pct CaO) and magnesium (0.12 pct MgO), but high content of silicon (5.72 pct SiO2).