18.08.2015 | Ausgabe 11/2018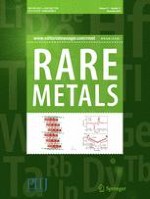 Preparation of Sm2Fe17 alloy by reduction–diffusion process
Zeitschrift:
Autoren:

Hai-Bo Chen, Jing-Wu Zheng, Liang Qiao, Yao Ying, Li-Qiang Jiang, Sheng-Lei Che
Abstract
Sm
2
Fe
17
alloy is the intermediate material for the preparation of Sm
2
Fe
17
N
x
(
x
≈ 3); thus, the synthesis of pure Sm
2
Fe
17
mother alloy is the key to obtaining high-performance Sm
2
Fe
17
N
x
. Reduction–diffusion (R–D) is a cost-effective method. In this study, the R–D process of synthesizing Sm
2
Fe
17
was analyzed by scanning electron microscopy (SEM), energy-dispersive X-ray spectroscopy (EDX), X-ray diffraction (XRD), and X-ray fluorescence (XRF). Furthermore, the influences of the tightness of compacted reactants, the compensation amount of Sm
2
O
3
, and the particle size of Fe on the formation of Sm
2
Fe
17
were discussed from the aspects of the three raw materials. The results show that Sm reduced from Sm
2
O
3
reacts with Fe particles to form intermetallic compound Sm
2
Fe
17
directly in the R–D reaction process of preparing Sm
2
Fe
17
; the generation of Sm and its migration to the surface of Fe particles control the reaction rate; a proper tightness of compacted reactants is necessary for ensuring the purity of Sm
2
Fe
17
product; pure Sm
2
Fe
17
can be obtained when the compensation of Sm
2
O
3
is 33 % of the stoichiometry; and the sufficiency of the reaction improves with the decrease in the size of Fe powders under the same reaction condition.