2014 | OriginalPaper | Buchkapitel
110. Preparation of Wetting Powder for Biocontrol
Bacillus Subtilis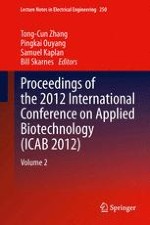 Erstes Kapitel lesen
Autoren: Fang Chen, Shangjing Guo, Haiying Shi, Deduo Han, Yuanjun Kang, Yu Zheng, Min Wang
Verlag: Springer Berlin Heidelberg
Abstract
Bacillus subtilis
is considered as one kind of beneficial strains which can effectively inhibit the pathogenic fungus of the plants and promote plant growth.
B.
subtilis
wetting powder exhibited better prevention and cure of powdery mildew, phytophthora blight, gray mold, and plant growth promoting ability.
B.
subtilis
wetting powder was formulated using diatomite and calcium carbonate as carrier, sodium dodecyl sulfate, PVA, and CMC−Na as co-formulants, soluble starch, sucrose, and sodium glutamate as protective agent. Optimal formulation recipe and processing technology of
B. subtilis
wetting powder were developed. The best composition was diatomite 5 %, calcium carbonate 5 %, SDS 5 %, CMC-Na 5 %, soluble starch 0.5 %, sucrose 0.5 %, and sodium glutamate 0.5 %. Quality index analysis revealed that the wetting powder reached the biological pesticide standards.