2021 | OriginalPaper | Buchkapitel
Prospect of a Fully Solar Energy-Driven Compact Cold Store for Low Income Farming Communities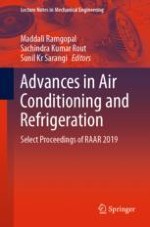 Erstes Kapitel lesen
Autoren: Sachindra Kumar Rout, Madhu Kalyan Reddy Pulagam, Sunil Kr Sarangi
Verlag: Springer Singapore
Abstract
Unlike industrially developed economies, weaker societies lack infrastructure for transportation and storage of agricultural produce. This leads to demand for many small cold store facilities distributed widely, instead of a few large and energy-efficient units. Solar energy gives a clean and environment-friendly option for meeting this need; but solar energy is available only for about a third of the day, leaving a challenge to save applications needing round the clock air conditioning. Recently (2015), a new technology has been proposed by Al-Ugla et al. [
1
] of Saudi Arabia to circumvent the problem by employing a modified vapour absorption refrigeration cycle. The authors have shown on the basis of theoretical modelling that it is feasible to design and build a modified vapour absorption refrigerator that will provide 24 h cooling without storing the refrigerating effect below room temperature. The proposed system is expected to be compact in volume and economical to operate. We are on the path of developing a practical cold store to store about 5 tonnes potato or equivalent quantity of other produce in rural setting at moderately low temperature. The system is based on the classical LiBr/H
2
O absorption refrigeration cycle, the heat supply being given by solar power. Night operation is implemented by providing extra storage tanks to save rich mixture, lean mixture and pure water when solar heat is no more available for generating the refrigerant from the rich mixture. A vapour absorption refrigeration process is similar to the more common vapour compression system except that the mechanical compressor of the latter is replaced by an absorption-pumping-desorption process to achieve the objective of increasing the density, and consequently the pressure of the refrigerant. A common chemical system consists of LiBr and H
2
O, the latter being the refrigerant and LiBr the absorbent, and the process is illustrated in Fig.
1
. While the vapour absorption cycle is well established, particularly, for generating refrigerating effect using low-grade heat or solar radiation, the focus of our project is to create a system that saves potential refrigerating effect (not a cold fluid) for use during night hours. The innovation introduced by Al-Ugla et al. revolves around extending the duration of operation by adding three secondary storage tanks—one for the strong (more water) solution, one for the weak (more LiBr) solution and one for the pure refrigerant (water), connected in parallel with the respective primary containers. During the daylight hours, the normal vapour absorption process, running in solar heat, produces the required cooling effect and excess amount of poor (weak) solution and pure refrigerant (water) which is stored in separate tanks for later use. This system should be distinguished from competing refrigeration storage systems where cooling effect is stored for the night either in the form of excess chilled water or in the form of solidified phase change material. The latter materials are bulky and expensive. In contrast, the proposed system stores the strong and weak solutions in separate tanks, with very high effective cooling capacities. The resulting secondary tanks are small, light and inexpensive. The machine will operate with 70 °C as evaporator temperature and 90 °C as generator temperature. The solar collector size is around 24 m
2
for 24 h run. The major challenge is to maintain vacuum inside the system. In summary, the system proposed, herein it is characterized by the following features. (a) No external supply of electricity (grid connection) not necessary, (b) 24-hour operation (including night hours). (c) Based on vapour absorption cycle using LiBr as absorbent and water as refrigerant. (d) No expensive refrigerant or phase change material involved, nor there is a need for a large reservoir for storing refrigeration effect. (e) Small solar PV unit (200 W) with battery to power the three magnet-linked liquid pumps. The system is under development in our HVAC laboratory. Theoretical design is ongoing and results will be presented in the conference. A cost comparison between the system under development and two competing conventional systems (grid connected and solar PV + Battery) will be presented.