15.03.2019 | Original Research | Ausgabe 7/2019 Open Access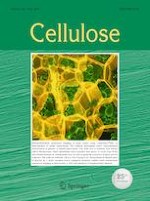 Reinforcing effect of poly(furfuryl alcohol) in cellulose-based porous materials
Zeitschrift:
Autoren:

Eva-Marieke Lems, Stefan Winklehner, Christian Hansmann, Wolfgang Gindl-Altmutter, Stefan Veigel
Wichtige Hinweise
Publisher's Note
Springer Nature remains neutral with regard to jurisdictional claims in published maps and institutional affiliations.
Abstract
The mechanical reinforcement of porous materials made of microfibrillated cellulose by in situ polymerisation of furfuryl alcohol prior to freeze-drying from aqueous slurry was studied. Besides a slight improvement in the modulus of elasticity measured in compression testing, no beneficial effects of furfuryl alcohol addition on porous materials produced from microfibrillated cellulose derived from bleached softwood pulp were observed. By contrast, when microfibrillated cellulose containing substantial amounts of residual non-cellulosic cell wall polymers, termed microfibrillated lignocellulose, was used, clear mechanical reinforcement effects due to furfuryl alcohol addition were measured. By means of SEM, significantly improved wetting of the cellulosic fibrillary architecture of porous materials with furfuryl alcohol was observed for microfibrillated lignocellulose compared to microfibrillated cellulose. It is proposed that the specific surface-chemical character of microfibrillated lignocellulose enables wetting of fibrils with furfuryl alcohol, thus providing micron fibre-reinforced structures with improved strength after in situ polymerisation. Besides mechanical properties, the density and thermal stability of cellulose-based porous materials were found to increase with increasing amounts of furfuryl alcohol added to the initial reaction slurry.
Graphical abstract
×