2020 | OriginalPaper | Buchkapitel
10. Relative Deprivation and Perceived Discrimination Among Quebec's English-Speaking Minority Communities: 'Second-Class Citizens' in a Multi-national Context?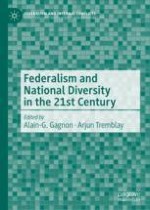 Erstes Kapitel lesen
Autor: Pierre-Olivier Bonin
Abstract
This chapter investigates the perceptions of disenfranchisement in English-speaking communities living in Quebec. The chapter draws upon original data from an online survey conducted in 2017 and tests two hypotheses: (1) the relative deprivation hypothesis and (2) the perceived discrimination hypothesis. The evidence presented in the chapter suggests that there exists a state of 'relative deprivation' in English-speaking minority communities in Quebec and that a strong majority of Anglo-Quebecers believe that their group faces discrimination often if not most of the time. Contrary to theoretical expectations, however, these two factors predict a lower likelihood of Anglo-Quebecer organisational engagement and volunteerism. The chapter discusses the implications for the accommodation of minorities (within multi-national federal settings) who perceive discrimination but fail to mobilise around their concerns.