01.06.2015 | Original Article | Ausgabe 6/2015 Open Access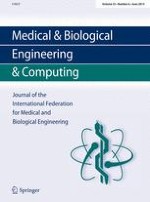 Reliability of modified sensory interaction test as measured with force platform
Zeitschrift:
Autoren:

Darja Rugelj, Ajda Hrastnik, France Sevšek, Renata Vauhnik
3

Results
3.1

Test–retest reliability of time-domain variables
3.2

Test–retest reliability of fractal dimension variables
5

Conclusion

Modified sensory interaction test measured on force platform has good to excellent test–retest reliability in a group of young and elderly women. Higher degree of test–retest reliability is typical for more demanding conditions in the group of young women. Of the eight evaluated time-domain CoP variables, mean velocity and sway area indicated the highest test–retest reliability, while for the fractal dimensions mSIT indicated poor to good test–retest reliability. The use of mSIT on a force platform with time-domain variables could therefore be recommended as an outcome measure for balance retraining programmes.
Open Access
This article is distributed under the terms of the Creative Commons Attribution License which permits any use, distribution, and reproduction in any medium, provided the original author(s) and the source are credited.