2016 | OriginalPaper | Buchkapitel
Responsible Management Education in the Netherlands: To What Extent Have Dutch Business Schools Integrated CSR into Their MBA Programs?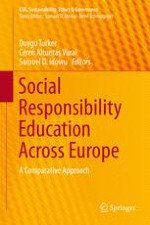 Erstes Kapitel lesen
Autoren: Lars Moratis, Marwan Jezrawi
Abstract
The increasing importance of CSR within the business context has led business schools to consider their essential role in this development and to positively contribute to this through responsible management education. It is unclear, however, whether business schools are preparing their students sufficiently to know how to deal with CSR issues throughout their careers effectively and to avoid irresponsible behavior as future leaders. Since comprehensive empirical data has been lacking sofar, this chapter reports on a baseline study into responsible management education in the Netherlands. In addition to a case description about the attention for CSR by the Open University The Netherlands, it presents original data about the state of responsible management education in the Netherlands. A survey was administered to general MBA program managers in the Netherlands addressing issues such as the level and way of integration of CSR into MBA programs, teaching methods used, student interest in CSR education, and the main drivers and obstacles for integrating CSR into management education. Both public and private business schools as well as research-oriented universities and universities of professional education were included in this research. Our findings indicate, among other things, that the majority of MBA programs that are offered in the Netherlands have integrated CSR into the curriculum, although most MBA programs appear to educate their students about CSR through traditional teaching approaches and dominantly use so-called saddle bag approaches to CSR integration in MBA programs.