2017 | OriginalPaper | Buchkapitel
10. Robert R. Blake and Jane S. Mouton: Concern for People and Production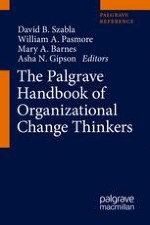 Erstes Kapitel lesen
Autor: W. Warner Burke
Verlag: Springer International Publishing
Abstract
Although Robert R. Blake and Jane S. Mouton taught and applied social psychology comprehensively and across boundaries, they were best known for creating and teaching the Managerial Grid. Based on the two fundamental functions of leadership – task structure and human relations – they took the position that there was one best way to lead and mange. This normative stance emanated from the combination of a manger's concern for production (task) and concern for people (relationship). Blake and Mouton's 5-day Grid Seminar in the 1960s became popular worldwide. Competition soon emerged in the form of contingency theories and situational leadership models best represented by Hersey and Blanchard's model. They among others argued that the Grid did not take into account the situation which varied according to subordinates' levels of job knowledge and experience. Thus a manger's approach should range from telling, selling, participating, or delegating depending on the situation as defined by subordinates' levels of maturity regarding their job knowledge.
Using a 9-point scale, Blake and Mouton argued further that the degree of the two concerns for production and people established a "style" of management and that a 9,9 combination of the two concerns (maximum degree of 9) determined the style that was a participative approach to leadership and management – the best way to manage and lead. A 9,1 combination, an authority-obedience style; a 1,9 was "country club" management; a 1,1 was an "impoverished" style (all poor choices); and in the middle of the Grid 5,5 was a second-best, compromising style.
Blake and Mouton got their ideas from social psychology, field research especially at Humble Oil in the Houston area and from their consulting work. As a result of their professional activities over the years they coauthored 30 books. Even though Blake and Mouton were grounded in considerable research, sound theory, and years of practice as consultants, they eventually lost the popularity war. With its simplicity and quick application appeal Hersey and Blanchard's model in particular was too attractive in the marketplace. The superior scholarship behind the Grid did not seem to matter that much. Some conclusions regarding this outcome are discussed in the conclusion section of the chapter.