01.09.2014 | Original Article | Ausgabe 6/2014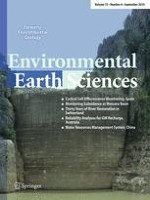 Runoff and sediment yield modeling by means of WEPP in the Bautzen dam catchment, Germany
Zeitschrift:
Autoren:

Mustafa Al-Mukhtar, Volkmar Dunger, Broder Merkel
Abstract
Soil erosion by water is one of the most widespread forms of soil degradation in Europe. There are many undesirable consequences of soil erosion due to water such as loss of water storage capacity in reservoirs and transfer of pollutants from farmland to water bodies. The objectives of this study were to calibrate and validate the Water Erosion Prediction Project watershed model (WEPP 2012.8) in the Bautzen dam catchment area with monthly and daily single events for runoff and sediment yield. This is to our knowledge the first study using WEPP in Germany. The catchment (310 km
2
) was subdivided into small sub-catchments with an area of <260 ha as recommended in WEPP. A sensitivity analysis revealed that the runoff is highly sensitive to the effective hydraulic conductivity in Bautzen, whereas the sediment yield is highly sensitive to rill erodibility, critical shear stress, and to the effective hydraulic conductivity as well. All these parameters were initially calculated using WEPP's built-in equations and parameters, which, however, produced very poor results for both runoff and sediment yield. Therefore, the model was calibrated for 2 years (2005–2007) and validated for another 2 years (2008–2009) against monthly measurements, in addition to 14 daily single events from the calibration period and 2010. The monthly results were compared with the monthly measurements on the basis of a continuous simulation. Results of calibration and validation periods show a satisfactory performance of WEPP with a determination coefficient
R
2
above 0.6 and Nash–Sutcliffe efficiency coefficients above 0.50 for runoff and sediment yield. Thus, the model could be used to simulate runoff and sediment yield, and used in scenario studies in the Bautzen dam catchment area.