01.02.2014 | Original Paper | Ausgabe 1/2014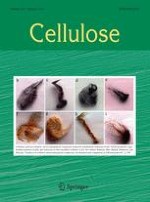 SEC-MALLS analysis of TEMPO-oxidized celluloses using methylation of carboxyl groups
Zeitschrift:
Autoren:

Ryoya Hiraoki, Hayaka Fukuzumi, Yuko Ono, Tsuguyuki Saito, Akira Isogai
Abstract
Two cellouronic acids [sodium (1 → 4)-β-polyglucuronates, CUAs] and one 2,2,6,6-tetramethylpiperidine-1-oxyl radical (TEMPO)-oxidized wood cellulose (TOC) became soluble in 8 % lithium chloride/
N
,
N
-dimethylacetamide (LiCl/DMAc) after the methylation of C6 carboxyl groups in these samples using trimethylsilyldiazomethane (TMSD). The obtained solutions were diluted to 1 % LiCl/DMAc and subjected to size-exclusion chromatography combined with multi-angle laser-light scattering (SEC-MALLS). Neither depolymerization nor side reactions took place during methylation; this was confirmed by SEC-MALLS and nuclear magnetic resonance analyses, using CUAs as models. The SEC-MALLS analysis of the original wood cellulose and the carboxyl-methylated TOC prepared from it, using 1 % LiCl/
N
,
N
-dimethyl-2-imidazolidinone and 1 % LiCl/DMAc, respectively, as eluents, showed that the weight-average degree of polymerization of the original wood cellulose decreased from 3,100 to 2,210 through TEMPO-mediated oxidation. The molecular-mass distributions of the original wood cellulose and the TOC both consisted of one large peak with a small shoulder, indicating that some of the oxidized hemicelluloses remained in the TOC. The combination of methylation of carboxyl groups in polysaccharides using TMSD and subsequent SEC-MALLS analysis using 1 % LiCl/DMAc as an eluent may be applicable not only to TOCs, but also to other polysaccharides with carboxyl groups, for evaluation of their molecular-mass parameters.